M
uch of Scotland this week was covered in something called "snow", an icy precipitation traditionally associated with something called "winter". But it wasn't all doom and gloom, oh fuckin' no.


For city authorities in Aberdeen helpfully issued a warning that certain city suburbs were best only driven by 4x4s, at a stroke legitimating the poor vehicle choices of many city residents.

A local 4x4 owner told The JT :"When I bought my 10 litre Fuckomoto Kamikaze 4x4 last year, some people would make wanking gestures when I parked at Tescos, just because my vehicle took up three disabled parking spaces. I'll never forgive my kids for their disloyalty. But now, with Aberdeen gripped by winter's icy fingers I 've now got an ideal post-facto justification for buying something that for 99% of the time is a pointless exercise in conspicuous consumption."
Our Aberdonian source would have chatted longer but he had to go down to Alldays for a pint of milk and a Record. With no time to lose, he engaged the Fuckomoto's four wheel drive option, skillfully selected reverse gear by mistake and crashed into a passing petrol tanker.


While the resulting explosion and blaze claimed the life of our correspondent it did give passing pedestrians a wee heat.


Inside: No excuse needed  to feature the work of the great, the very great, Bruce McCall.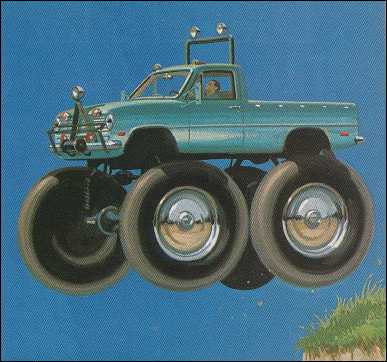 No, 4x4s can't actually fly as well.